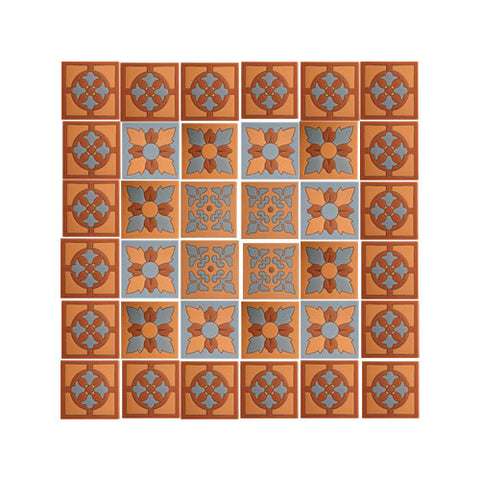 Mexican Style Mural - Craftsman Raised Relief Tile Mural: 36 Pieces
SKU: 14109
---
The best quality Murals! Get yours today.
---
This beautiful decorative Mission Arts and Crafts style ceramic tile mural featuring terra cotta and grays will enhance any wall in your home, perhaps behind your stove or on your patio wall.  This is a collection of four patterns of Prima Raised Relief Decorative tile in a 36-tile mural.  The mural contains thirty-six (36) tiles, each approximately 4.25" x  4.25" x .34".  Each is hand-painted by an expert craftsman/woman in Mexico.  These are durable high temperature fired ceramic tiles. Please watch our short video on trimming tile murals, which you can find on our homepage. Decorative trim adds a lovely 3-D dimension and frame to your mural to draw the eye and convey a mood and ambiance like nothing else. If you have any questions about how to incorporate a ceramic tile mural into your decorating or remodeling project or how to trim it, please don't hesitate to call us. We are always happy to help!
Please note there is no free shipping on this mural.
SKU 14109
---
We Also Recommend