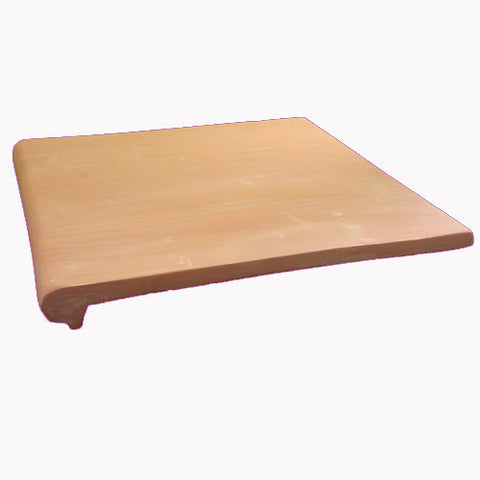 Stair Coping, Tierra Art Hand Crafted, High Fired Floor Tile
SKU: 60008
Our Tierra Art handmade terra-cotta floor tiles are our highest quality floor tiles. These tiles are created with only the best clays and fired at very high temperatures. This precise combination of superior materials and high temperature firing (2100 degrees Fahrenheit) in state-of-the-art kilns creates high quality modern tiles that nevertheless express the romance of classic Old World charm and ambiance. You can rest assured when you buy Tierra Art floor pavers that you are purchasing excellence in both composition and process, 100% handcrafted with great care by families in Mexico. Tierra Art floor tiles are perfect for any flooring project, whether for your kitchen floor, living room floor, bedroom or bathroom. Many businesses and restaurants also prefer Tierra Art for the stunning atmosphere they impart to any space. These exceptional tiles require little maintenance once installed, sealed and finished. Please see our Finishes and Sealants page for product recommendations that will enhance and protect the beauty of your new floor.
NOTE: Mexican Tile Designs maintains only the highest standards of quality control, however due to the handcrafted nature of all of our products, lots may vary in size and color. There is no guarantee that tiles from separate shipments will match those from original orders. The incomparable beauty of these products comes from the fact that each tile is made by hand by artisans, not mass-produced by a factory machine.
Stair Copings are 12 x 12 x 1/2 inches with a beautiful sculpted edge that will enhance your decorative riser tiles. Tierra art floor tile can be sealed with a penetrating sealer and left with their natural no-slip surface or you can apply a durable gloss oil based finish like Mex Seal or an acrylic based (California approved) gloss finish like 3M Cornerstone.  
part# 60008
---
We Also Recommend